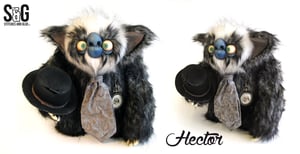 £

300.00
Hector, the lodger of a long standing barbershop in the East end of London. He's regularly spotted gracing the surrounding streets tipping his hat to passers-by. Easing and comforting everyone around him remains his major concern, a true English Gentle monster. Complete with his very own top hat, wind-up pocket watch and Cravat.
Measuring a whopping 14'' x 26'' (Arm span)
limited to just two. Made in our London studio, from high grade faux suede and fur. With hand casted facial features and arm armature to allowing the monster to be posable. Hand painted, with a great attention to detail.