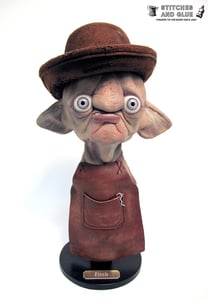 £

245.00
The Mechanical Engineer
Despite his appearance, Fitch is quite the gentleman. Although he is obsessed with pushing the boundaries of his own mechanisms he's still a great team player and takes on board other departments concerns about any collaborative make. Professional by day, hell raiser by night!
Measures 12.5"x 7", complete with mount stand and name plaque
Hand crafted bespoke character bust with great attention to detail.
'Behind our closed studio door we have a passionate team of makers that we'd like to introduce you too. They strive for excellence and pay meticulous attention to detail.
These boys are happiest when they are busy, and have a fantastic bond and team spirit although will get a bit funny if someone makes a bad cup of tea.
Without further ado meet Rowney, Gribble, Mort, Fitch and Louie.'