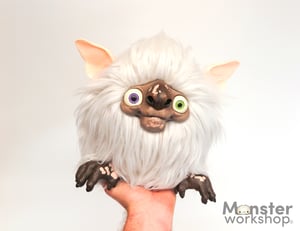 £

120.00
Eryl was rescued in the New Forest by a passing cyclist. Found entangled in brambles, his long silvery coat twisted and locked him in place.
A calm and quiet fellow who loves to observe life, making him the perfect companion.
Measures 8" Tall (8"x7"x11")
Hand painted features, Luxury faux Fur.
Flexible rubber ears.
Handmade Plush Art piece produced in the Stitches and Glue Studio, London UK.
Limited run of 5. (This is Not a toy and not suitable for Under 14's)
Shipping via fully Tracked service.
(Please note: All of our products are created in a clean and safe environment, where handling is kept to a minimum. Once created they are sealed and quarantined for 72 hours before being shipped)